A new paper (link is external) published recently in the Nature group journal, Scientific Reports, demonstrates the ability to combine the use of Affimers with antibodies to increase specificity and performance of tests against glypican-3, a cancer biomarker. The work was carried out by the Southern Medical University, Guangzhou in collaboration with the University of Leeds. The new assay offers a significant increase in specificity with results aligned to the 'gold standard' invasive immunohistochemical assay. The performance improvement observed with this new assay potentially provides a non-invasive test for monitoring cancer patients.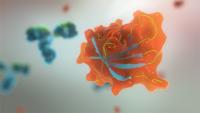 Glypican-3 is a heparan sulfate proteoglycan associated with the development and presence of hepatocellular carcinoma (HCC). The increasing evidence for this tumour biomarker has led to the development and approval of an immunohistochemistry assay for the diagnosis of HCC by the China Food and Drug Administration. In cases of this disease high serum levels of glypican-3 have also been noted across the literature, with many experts in the field confirming the utility of serum glypican-3 levels as a marker offering clinical prognosis for patients with HCC. However, no clinical diagnostic assays currently exist for glypican-3, mainly due to the lack of correlation between the results from a number of being commercially available assays.
After identifying Affimer binders to the glypican-3 target through phage screening processes, a corresponding antibody was selected during the assay development and optimisation process. The resulting chemiluminescent sandwich ELISA utilised the Affimer binder as the capture reagent to increase the specificity of the assay.
The Affimer-based ELISA assay was shown to offer a higher limit of detection at 0.03ng/ml and a wider linear detection range of 0.03-600 ng/ml, compared to other commercially available glypican-3 assay kits. Furthermore, assaying a range of recombinant proteins with increased expression in HCC patients, showed very low levels of cross-reactivity. Stability of the assay was shown to be over 12 months at 2-8°C. Additionally, the assay precision for both intra- and inter-assay variability and accuracy, determined by the recovery rate of known antigen concentrations, were within the acceptable range for immunoassays. These measures of analytical performance show the Affimer-based ELISA to be highly sensitive and selective for the glypican-3 target, whilst also being stable, consistent and accurate.
To assess the clinical performance of the assay 375 samples from healthy individuals, patients with HCC, hepatitis C, hepatitis B, intrahepatic cholangiocarcinoma and liver cirrhosis were assessed using the Affimer-based ELISA. Significant increases in glypican-3 were observed in HCC patient samples compared to healthy individuals and the other diseases, indicating that the assay is specific and sensitive enough to selectively detect HCC patients.
Comparison of the Affimer-based assay for glypican-3 to three other commercially available assays, which use antibody pairs for detection, showed a lack of correlation between all the assays. The researchers investigated this apparent disparity by analysing 41 preoperative tissue samples from patients with HCC alongside the paired serum samples, using both the China Food and Drug Administration approved immunohistochemistry diagnostic assay, the Affimer-based assay and a further commercially available ELISA for glypican-3. The Affimer-based assay showed a specificity of 100% comparable to the histological diagnostic assay, while the alternative commercial assay exhibited a specificity of 0%. This highlights the specific nature of Affimer-based assay and demonstrates its potential utility in the diagnosis of HCC from serum samples.
Glypican-3 is a promising new tumour marker for HCC, where serum detection offers a less invasive and potentially earlier diagnosis than current methods. Although one histological assay for glypican-3 has been approved for HCC diagnosis in China, there are currently no serum diagnosis kits approved for use. The increased target specificity offered by Affimer binders allows for improved detection performance in such assays, which in this case allows the assay to effectively discriminate between HCC with elevated glypican-3 levels and other liver diseases.
This new approach to the development of tests, implementing an Affimer binder-antibody pair for detection, offers improved performance and diagnostic capabilities that could also be applied across other diagnostic and research assays.